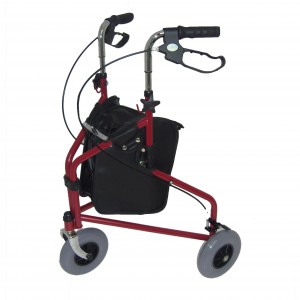 Ultra lightweight Triwalker has Lightweight solid 7″ wheels for indoor or outdoor use.
Comes standard with vinyl bag.
Folds flat for easy storage and transportation.
Arthritic friendly loop lock brakes, can be used to slow down or to stop and lock on completely
Handles are adjustable in height in 1 inch increments.
Easy, one hand folding.
This ultra lightweight tri walker will fold up easily without the need to remove parts. It will fold up with the bag still on it as long as the bag is empty.
Total Weight 4.7kg (10lb).
Weight capacity 115kg (18 stone).
Width – 61cm / 24″
Depth – 56cm / 22″
Height Min – 83cm / 33″
Height Max – 93cm / 37″
Weight – 4.7kg / 10lbs
Weight Capacity – 115kg / 18st