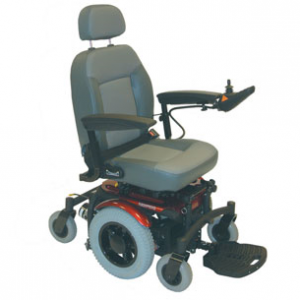 The Roma medical Shoprider Lugano is a standard mid-wheel drive powered wheelchair capable both indoors and out. Large wheels and articulating castor beams give the Lugano good outdoors performance, while the mid-wheel drive keeps it manoeuvrable when used inside. The captain's seat provides ample comfort for those needing a standard seat, and comes with a headrest too.
The Lugano features large 14 inch drive wheels, much bigger than those found on most other powerchairs, and this helps it perform outdoors, as well as giving a smoother ride. Articulating front and rear axles complements this, as well as the pneumatic tyres. This combines to give the Lugano better performance outdoors than more basic mid-wheel drive powerchairs such as the Jazzy Select 6.
Just as usable indoors, the mid-wheel drive allows the Lugano to turn on the spot, making it more manoeuvrable than traditional rear-wheel drive powerchairs. The high-back captain's seat is comfortable to use, and features a basic headrest too. The seat is a "standard" and minimal adjustments can be made to it, meaning that people with more advanced seating and postural needs, or whose needs may change, are unlikely to find the Lugano suitable. However, for those after a comfortable standard seat, it is ideal. A flip-up footplate comes as standard, ideal for storage and manoeuvrability, while swing-away footrests can be supplied if required as an optional extra
The Shoprider Lugano powerchair is a stable powerchair which offers lots of features .The Shoprider Lugano powerchair comes with a captain seat as standard which has an angled adjustable back. Seat belt and headrest also included. The seat base itself is height and angle adjustable. The Luganos' front and rear axles are articulated which gives a more comfortable drive.
The Twin motor mid-wheel drive system enables the machine to turn in a 360 degree circle within its own length. Armrests are height and width adjustable and furthermore the footplate is also height adjustable.
Shoprider's Lugano powerchair can also be dismantled for transporting or storing.
Easy to use controls
Lightweight Design
Flip up footplate
Disassembles for transporting
Maintenance free batteries
Fits in most vehicle boots
Twin motors for traction and precision handling
Turns in its own length
Direct access to battery and free wheel release mechanism
Lap belt for added safety
Captains seat and headrest
Height and angle adjustable seat base
Articulating front and rear wheel axles, help achieve a more comfortable ride
Extendable VSI control unit (for right or left hand use)
Height and width adjustable arms
Flip up padded armrests
Pneumatic mid-wheel tyres
Puncture proof front and rear swivel castors
Off board charger
Special order chair